Two Iconic National Parks
Explore the vast Northwest Territory with us, as we float amongst icebergs and hike the Denali Region, famous for North America's Tallest Peak! We will enjoy sea kayaking, whale watching, a dog sledding demonstration, and visit some of the loveliest towns and lodges in all the state of Alaska!
Additional Excursion Option
Hospitality & Entertainment
Easy & Fast Booking, Call Us Now!
Click the Tabs to Find Out More!
Trip Details
Price:
Double Occupancy: $3,499 per person
Triple Occupancy: $2,999 per person
Quad Occupancy: $2,899 per person
Single Supplement: $400
All Pricing subject to Utah Sales Tax (8.2%)
---
---
Price includes:
Transfers, entry fees, accommodations, all meals, snacks, and bottled water, an excellent guide for the duration!
See breakdown
The tour comprises of 7 days in total, the first of which will be an arrival day, followed by 5 full days of tours and activities with departure on the seventh day.
---
Additional Excursion:
At Las Vegas Airport, guests must catch the 1:30 p.m. ground shuttle to St. George where they will be greeted by their guide, and then transferred to Kanab. All shuttles and transfers are included and organized by us.
---
---
Transportation:
Ford Transit Van with heat and A/C
---
What to bring:
Comfortable shoes, sunscreen, camera, layered clothing, hat, special snacks according to your dietary needs.
Have the Adventure of a Lifetime in Alaskan Adventure !
Day 1: Arrival Day
Show More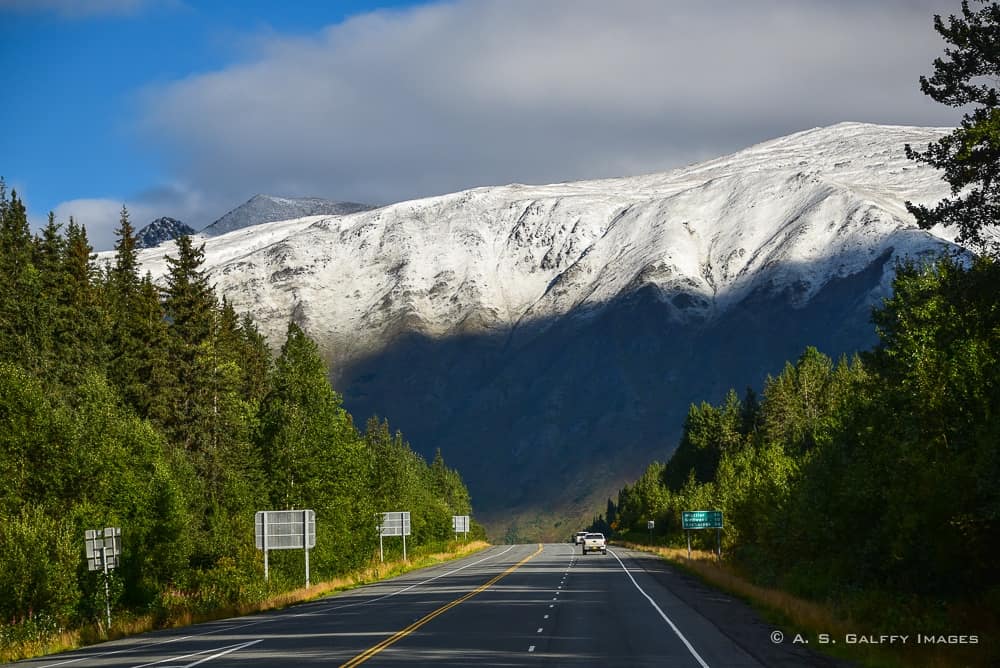 Arrive in Anchorage, Alaska where we will greet you at the airport (unless you have arrived earlier). Travel with us to Denali, AK, and enjoy the wilderness along the way! We will stay in Denali for two nights.  Meals included: dinner.
Day 2: Denali National Park and Dinner Theater
Show More
Journey to see the park famous for the tallest peak in America! Along the route, we are sure to see spectacular wildlife, such as Grizzly Bears, Moose, Caribou, and Dall Sheep! Those who would like to may join Cory for a hike through the park in the afternoon. That evening, we will enjoy a dinner theater program at our lodge! Meals included this day: breakfast, lunch, dinner. 
Day 3: Dog Sled Demo, Talkeetna, Seward
Show More
This morning will give us the opportunity to learn from Denali Park Rangers about Dog Sledding. We will watch a demonstration and meet the dogs in their kennels. After a short hike, we will leave the Denali area, and venture toward the quaint coastal town of Seward. Along the way, we will stop in the truly funky Talkeetna to check out some local shops, and we will pass by gorgeous lakes and rivers. We'll stay in Seward for two nights.
Meals included this day: breakfast, lunch & dinner.
Day 4: Kenai Fjords and Exit Glacier
Show More
This day will take us on a small boat tour out into the Kenai Fjords. This will be an exciting opportunity to view marine wildlife in their native habitat. There will be a high likelihood of seeing whales on this day, and we will also observe glaciers and possible hear the thunderous sound of glacial calving! After our cruise, we will take a hike up to the stunning Exit Glacier, where we will get up close to an ever-shrinking ice mass.
Meals included this day: breakfast, lunch & dinner.
Day 5: Alaskan Sea Life Center
Show More
The morning will begin with a tour of the Sea Life Center, whose mission is to support and sustain native species to Alaska, as well as to educate visitors. After lunch, we will venture on to the Kenai Peninsula, where guests will have the option to hike to the Russian River Falls to watch the salmon jump upstream or take a leisurely raft ride down the river. Dinner that night will overlook the Kenai River. We will stay in Kenai for 2 nights.
Meals included this day: breakfast, lunch & dinner.
Day 6: Homer and Homesteading
Show More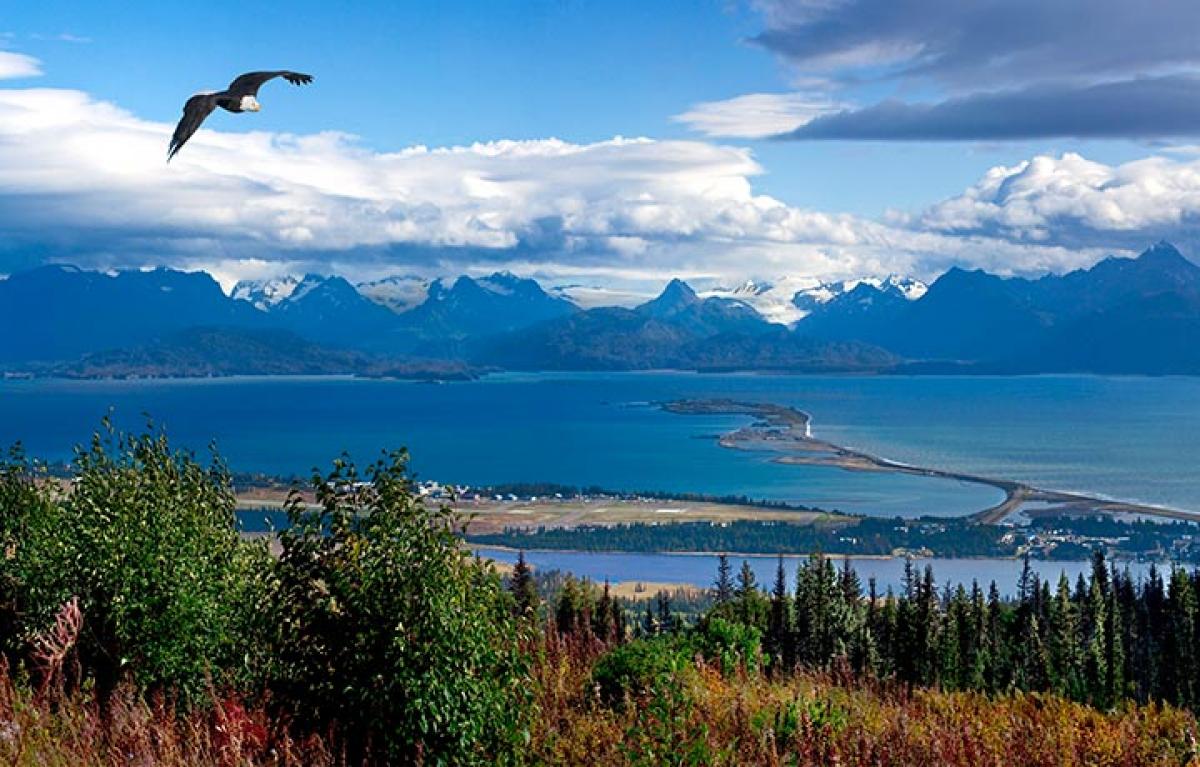 We'll take a day trip to Homer, Alaska this day, where we will enjoy a sea kayaking adventure! There will be an optional halibut fishing excursion on this day (additional fees apply of $150 per person), and those who choose the alternate activity of shopping and gallery hopping around the quaint little town will not be disappointed. That evening, we will enjoy a farm-to-table meal, along with a program about Homesteading, provided by a local family.  
Meals included this day: breakfast, lunch & dinner.
Day 7: Departure
Show More
We will drive back to Anchorage this morning where you may depart your own way. We will be at the airport by 10:00 a.m. on this day. Thank you for touring with us, and we hope you carry with you a bounty of memories as big as Alaska!
Meals included this day: breakfast.
| Included | Not Included |
| --- | --- |
| Transportation in a Ford Transit Van to all areas | General Gratuities |
| Three Meals a Day | Alcoholic Beverages |
| 6 Nights accommodations in comfortable lodges | |
| A visit to the Alaska Sea Life Center | |
| A sea kayaking tour in Homer | |
| Hiking at two National Parks | |
| Small boat tour and whale watching around the Kenai Peninsula | |
| Transport from and to the Anchorage airport | |
*Please let us know at the time of booking if you have any special dietary requirements.
What to Bring
Comfortable footwear for outdoors
Sunscreen, hat & sunglasses
A sense of fun & adventure!
Good to Know
• Itineraries are subject to change.
• Each day will include a maximum of about 2 miles easy/gentle walking or hiking on safe, paved pathway.
• Guests are responsible for getting themselves to the meeting point at the indicated time on the arrival day.
Frequently Asked Questions
What do I need to pack?
Show Answer
We suggest you bring clothing for each day (light layers), shoes and socks appropriate for hiking on rocks, sand, gravel and pavement. We'd also recommend a rain poncho or similar light rain gear, sunscreen, a hat and/or sunglasses, and a camera. National Park Tourz provides 3 meals a day, as well as bottled water, daytime trail snacks and a backpack to keep your belongings. If you have special dietary needs or preferences, you may want to bring a few of your own snacks.
What is the tipping or gratuity procedure?
Show Answer
Gratuity or tipping is a personal option and is completely up to you. You may request to have it added into your tour balance or tip your guide directly at the end of your tour. Customary gratuity is between 10-15% of your tour price.
Make the Most of Your Time Away